A competitive company is one that, once it knows what it needs to do, it gets it done right.
Selecting a goal, committing to a completion date, assigning resources, following a budget and completing the work is the definition of a project. Critical corporate goals - new products, acquisition, compliance actions - can all be treated generically as projects.
Our solution is Total Matrix Management (TM2).
"As a direct result of our implementation of TM2, we completed 16 major development projects this year compared to only 5 last year. In the last year our profit increased by $45 million on a revenue increase from $450 to $600 million. And we did it without hiring a single additional developer. These results were due solely to the leverage of TM2 applied to our already successful business processes."

Bill Baron, Director, Lucent Technologies Optical Cable Division, 2000
TM2 gives senior management the structure to effectively and efficiently control the Project/Resource matrix as a single entity. The classic antagonistic interactions between projects are eliminated. The results are:
The number of projects completed per year can more than double

The average duration of projects can shrink to one half the old average duration

' Full scope projects are completed on-time and on budget (no rescheduling)
The spice is in how we manage the matrix of projects and resources. The technique requires:
A simple redefinition of management roles

One policy change

Two new operational measurements

Replacement of one performance measurement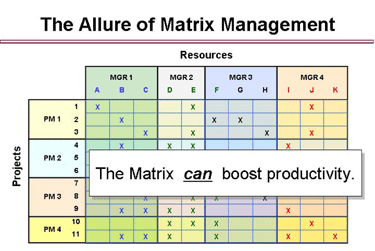 Implementing the TM2 process: gives senior management an effective controlling role (with structured low time demand). We have helped companies double the project throughput rate while halving the time it takes to successfully complete them without increasing staffing. This means that the entire increase in revenue brought in by these additional projects can go straight to the profit column. More information is available in theTM2 Brochure, and in the December 2005 Newsletter. A very complete description for someone wanting to understand all of the fundamentals and the process is in the white paper.
The TM2 process uses Microsoft Project with an add-in from Spherical Angle to enable the state-of-the-art event-driven, project tolerance methodology of project management.
(Click here to email a course request)
Title: Turning Executive Strategy into Profits (Use Link for Full Description)

Who Should Attend: Senior Executives interested in significantly improving their business's tactical execution.

Date: June 2, 2009, 7:30 am to 1:00 pm

Location: Microsoft Corporation; Great Valley Corporate Center; 45 Liberty Blvd. - Suite 210; Malvern, PA 19355

Register: